The lady who mail this is, is still dead. But her estate isn't fully settled yet. I have nothing to do with that. I just monitor the junk mail. I am hoping that in the next couple of weeks I can go over to the post office and put an end to the junk mail once and for all.
Until then the parade of scumbags continues.
---
United States Justice Foundation. Charity Navigator, Source Watch page. Opt-out here or call (760) 788-6624. Also op-out through Response Unlimited. Junk mail from them should stop this month. This is at least the forth time they have sent this "blah blah Notice" mailpiece. When do I get the third notice? Like last week I re-looked up some old friends to see what I could find. I did the same with the USJF and it's Executive Director Michael Connelly. I found this little nugget about Michael Connelly on Renew America
Constitutional attorney and head of the United States Justice Foundation, Michael Connelly, told me the unbelievable this week. His fiancé, without any symptoms or presented concerns was forced to take an Alzheimer's test at an annual "wellness" visit she had gone to. She was also asked whether she owned guns.
The column goes on to call Alzheimer's screening tests a "violation of our right to privacy and punishment if we dare try and keep our medical or mental needs private." Um this is your doctor. They are the ones who need to know your medical and mental needs and abilities. And there are laws that make your medical record private. The thing I find fascinating is, this is a little kernel to make people not want to take a Alzheimer's screening test. What kind of person doesn't want people to know their mental health status? Maybe the kind of person who's income depends on elderly people giving them money. Preferably elderly people with a diminished mental capacity. The kind that give money over and over not realizing that they have given money for the same mailpiece 3 times.
To quote this mailpiece:
I urge you to immediately send in your 2015 United States Justice Foundation Voluntary Sponsorship of $20.

If you have already sent in your Voluntary Sponsorship, I thank you — but I still hope that you will also consider sending in a special emergency donation of $300, or even $450.
An "emergency donation" really? What emergency do you have? In 2013 you made over $4 million. If you need to do some belt tightening, cut down on your $700,000 junk mail, fundraising budget.
---
Leadership Conference Education Fund, Charity Navigator page a project of the Leadership Conference on Civil Rights Wiki page, Charity Navigator page, opt-out here and call (202) 466-3434. Their fundraiser is The Bonner Group.
This is the second invitation I have gotten to the The Leadership Conference Hubert H. Humphrey Civil and Human Rights Award Dinner. May 13 2015 at the Washington Hilton. The honorees are Eric Holder, Laura Murphy, and Bob Dole.
---
Freedom Watch featuring Sheriff Joe Arpaio. It is run by Larry Klayman. Wiki page. To opt-out call (310) 595-0800 and email leklayman@gmail.com If they blow you off, do what I had to do and send a complaint to the DMA. Junk mail from them should stop this month. Media Matters has a nice round up of what Larry has been up to lately. He is also suing his ex-wife's lawyers for… something I can't figure it out. For being better lawyers than him? He wants $6.5 million in damages, plus attorney's fees.
---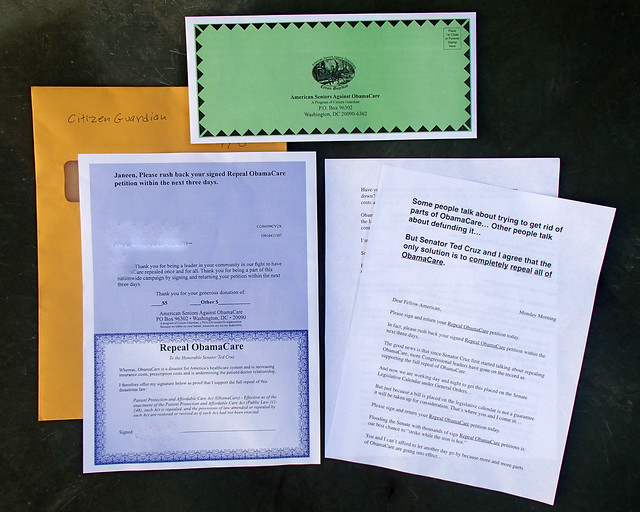 American Seniors Against Obama Care a program of Citizen Guardian, Inc. GuideStar page, Opt-out info@CitizenGuardian.org and call (202) 469-3433. They use Engage Direct Mail and InfoCision.  Mail from them should have stopped last month. Normally I would file a complaint with the DMA.
Note the huge font. No matter how bad your eyes are, you could read that in the dark.